Asters or Michaelmas Daisies are the mainstay perennials of the sunny fall border. I can't imagine designing a fall garden without this spectacular plant. Michaelmas refers to the time of flowering.
How to grow Aster Flowers?
Asters are extremely easy to grow. They'll survive in almost every garden soil that is moderately fertile and well-drained. Unfortunately, they'll not do well on clay soils. They need full sunlight, although morning shade is tolerated as long as that full noon sun is available.
Give them less than optimum sunshine, and they turn into floppy messes. Some of the older varieties turn into floppy messes anyway, and it is always good to plant these next to other perennials for support or actually stake them.
I'm sure I don't have to tell you (but I will anyway) that Aster is 'star' in Latin, suggesting the flower's shape.
I would recommend new gardeners search out the newer and disease-resistant varieties and grow these.
These are generally aggressive spreading plants that demand yearly edging with a shovel. They do not travel huge distances underground but make no mistake; they will rather quickly march across the garden territory in hopes of eating your prized summer bloomers.
Cultural Details
• Height: 24 to 48 inches
• Sun needed: Full
• Bloom color: Red, violets
• Bloom time: Mid to late fall
• Planting space apart: 18 to 24 inches
• Soil preferred: Sand, well-drained
• Propagation method: Division, cuttings
A. amellus is a European species averaging 18 to 24 inches tall. Easily grown and hardy into USDA zone 4.
• 'Violet Queen' – large flowers of a violet-purple and yellow eye.
A. coloradoensis
• 'Coombe Fishacre' is a 36 inch tall, vigorous growing plant with lavender-rose blossoms.
A. divaricatus North American native, excellent for part shade or naturalizing. Grows better on dry soils than other asters. It has white blossoms resembling small stars on well-branched plants. Grows to 18 inches tall.
A. x frikartii Excellent hybrid group sharing several important characteristics. The first is they are the longest blooming asters – starting mid to late summer and lasting well into fall. The second is they are very disease resistant.
The way to grow them is to plant in well-drained soil (no clay for this plant) and growing them in a zone 5 garden. They do not like cold winters.
• 'Flora's Delight' has lilac mauve flowers with a yellow eye. A bit shorter than others at 18 inches.
• 'Monch' is the classic in this group. Lavender-blue flowers over an extended time and a height of 30 inches make this the aster standard.
• 'Wunder von Stafa' (also sold as 'Wonder of Stafa') 24 inches tall with delightful sky-blue flowers in mid to late summer throughout the fall.
A. lateriflorus is A North American species that has naturalized itself in Europe. It can grow to 36 inches tall in wild settings, but cultivated varieties vary in their height. It seldom needs staking.
• 'Prince' White flowers on interesting plum-colored foliage make this a good all summer plant for garden interest. The flower is small and white with red-eye and quite distinctively attractive in the profusion each plant produces. Good compact growth habit makes this plant a winner.
A. novae-angliae or New England Aster is another North American native. In the wild, it is one of the taller species, reaching 4 – 5 feet. It is hardy into zone 3 and rarely needs staking. It also provides some of the best plants for taking cut flowers.
• 'Andenken an Alma Potschke' (also sold as 'Alma Potschke') is a salmon pink and growing just under 48 inches. It is one of the best.
• 'Pink Winner' is a medium pink and quite an upright form even though it is short (36″) for the species.
• 'Purple Dome' is an introduction from the Mount Cuba Center in Delaware and is deep purple and 18 to 24 inches tall.
• 'Rudelsburg': 36 inches tall and a good growing plant (aggressive). Bright red blossoms cover this plant in the fall.
A. Novi-belgii The species is 48 inches tall with woody stems requiring no staking. Widely naturalized in Europe, it comes in a variety of hybrid colors and heights. All are quite hardy into zone 2. The shorter forms were bred using A. dumosus as the other parent.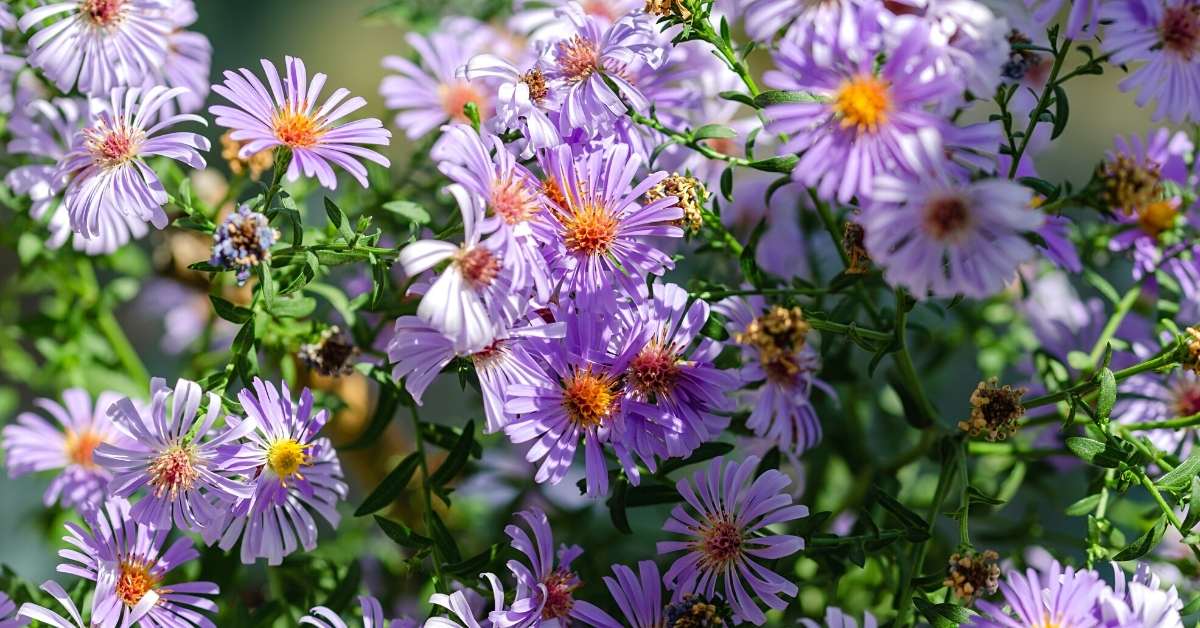 There are literally hundreds of available varieties in this species. This plant has been aggressive in my gardens.
• 'Audrey' 12 inches tall and mauve blue. Good garden performer
• 'Coombe Rosemary' A double flowering, violet-purple on 36-inch tall plants
• 'Diana' is a clear rose-pink on 24-inch tall plants
• 'Lady in Blue' a semi-double flower on 12-inch plants., mid-blue coloring
• 'Little Pink Beauty' is a semi-double, bright pink flower on 18-inch tall plants
• 'Professor Kippenburg' is a semi-double, bright blue flowering plant at 12 to 18 inches tall.
• 'Royal Ruby' a deep red, semi-double flower on 18 to 24-inch tall plants
• 'Winston Churchill' a bright red single flower on 18-inch tall plants.