Perennials
Phlox Paniculata: Growing Phlox in Pots
Growing phlox in pots for the primary season summer border is growing a three-season garden backbone plant. This is the kind of plant that flowers for a long time, is a heavy bloomer, and is relatively easy to grow.
Here are the details you need to keep this perennial flower growing well for you.
Origin
Phlox paniculata, also called Herbaceous phlox, Border Phlox, Fall Phlox, Garden Phlox, Perennial Phlox, Summer Phlox, belongs to the family of the Polemoniaceae. The parent species come from banks and from sparse forests in the eastern United States.
Phlox has been cultivated as a garden plant since the 18th century. Breeding from the American wild species Phlox paniculata and crossing with the meadow phlox and wild sweetwilliam (Paniculata maculata) resulted in countless varieties, many of which have found their way into our gardens.
Blossoms
With its bright colors, Phlox paniculata attracts attention from afar. The flowers of the high flame flower shine in white, pink, red, or purple from June to September. Not infrequently, they are also two-colored.
The plate-shaped flowers consist of five similar petals, which are often stronger or contrasting colored at the base and thus form a so-called eye. They are very close together in a cone-shaped inflorescence so that they like to overlap each other.
Especially in warm afternoon and evening hours, they give off a pleasant scent and attract numerous moths for pollination. The fragrance nuances range from sweet aromas such as honey and violets to spicy herbal notes.
Location: Can Phlox grow in shade?
Phlox paniculata (Garden phlox) wants a full sun location or at the least a part sunspot. It will tolerate part shade but will get leggy if you don't give it enough sun. If you have a choice, I'd recommend you put it in the morning sun so dew will be dried off the leaves as soon as possible.
I'd also put it in a well-ventilated spot in the garden (your windy location).
Because this plant does get powdery mildew with a vengeance if allowed to stay damp and shady. It is the main weakness of the plant. While a few "resistant" varieties are on the market, they are scant improvements over the primary selection unless given excellent growing conditions.
Soil Requirement: How to grow phlox?
It grows on a wide variety of garden soils, including a heavier almost-clay soil. If you have sandy soils, you simply have to water more to keep the blossoms coming (allowing any plant to dry out will reduce the blossom count).
Planting Garden Phlox
Choose the planting hole so that the high flame flower is not pressurized by neighboring plants, and the leaves can dry off easily. Mix some compost into the excavated earth and water the young plant well.
For Phlox paniculata to thrive, it is divided after five to eight years and planted in a new location. To prevent powdery mildew or stem nematode infestation, you should not plant a phlox in the original place of growth for the next six years.
Propagating Phlox paniculata
Getting more is as simple as digging up a chunk of the root in the spring and moving it. Do this before or just as active growth starts. Fall division is also a recommended practice, and I've moved quite a few of them this way. See the pages on plant division for details on how to do this.
Care
Fall care is simply to cut the plant to the ground. Leave a few 6-inch long stubs, so you know where the plant is in the spring. Generally, remove the stems and leaves from this plant to your landfill – do not compost them in your own garden. The stems and leaves will be full of powdery mildew spores.
Deadheading
Deadheading will not prolong the bloom because the plant blooms in the middle to late summer. However, deadheading will improve the appearance of the plant as well as the surviving flowers. As a result, get rid of any wasted or fading flower heads.
Simply cut them back enough that the stems that supported them are no longer visible without destroying any additional flowers.
Growth: How fast does Phlox grow?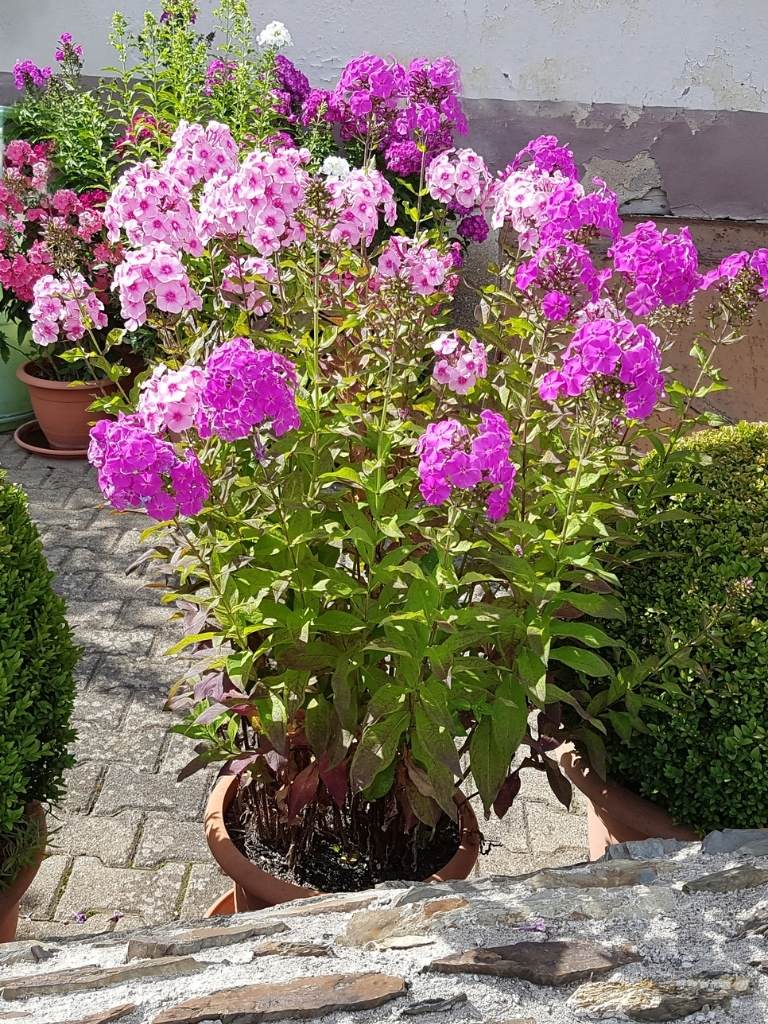 Phlox will start as a tiny gallon plant and grow to 12 gallon plants in the second year. It slows down a little after that but finally takes up an 18-24 inches broad area.
You'll need to plant multiple specimens 12-18 inches apart to achieve the full "blowsy" appearance shown in garden publications. You may leave it in one location for 4-5 years to bring it up to 30 inches broad. After that, you'll want to divide it to enhance the blooms and breathe fresh life into it.
Use
The multi-colored varieties of Phlox paniculata are among the most important magnificent perennials for sunny borders. Due to their bright colors and the rich, long-lasting bloom. Depending on the flower color, there are different companions.
The red and rose-blooming varieties harmonize wonderfully with autumn asters, daisies, and delphinium. Yellow-flowering perennials such as Helenium (Sneezeweed), sun's eye tulip (Tulipa praecox), and goldenrod also go well with purple-flowered varieties.
You can loosen up the arrangement with ornamental grasses such as Feather Reed Grass (Calamagrostis), Switchgrass (Panicum virgatum), Fountain Grass (Pennisetum alopecuroides), or Silvergrass (Miscanthus). Phlox paniculata is also very suitable as a cut flower for the vase and adorns summery bouquets.
Diseases and pests
The main pests of Phlox paniculata are powdery mildew, leafhoppers, and stem elk. The risk of a fungal attack can be reduced by paying attention to an optimal location and vigorously watering the plants in hot spells.
If powdery mildew has already attacked the high flame, you can treat the plant with environmentally-friendly network sulfur. The best way to remove the leafhoppers is with a jet of water from the garden hose.
The insect likes to sit hidden in a drop of foam on the leaf and suckle on the plant. The small stem, a slender, almost transparent nematode, attaches itself to the shoots of the phlox. It is best to cut off and destroy infected shoots immediately.
Growing phlox in a full sun perennial cottage garden is almost a necessity. Just pick the newer disease-resistant varieties that are coming onto the market now.