Purple is royalty. A mysterious color, purple, is associated with both nobility and spirituality. The opposites of hot red and excellent blue combine to create this intriguing color. Purple has been used to symbolize magic and mystery, as well as royalty. Being the warmest and coolest color combination of red and blue, purple is believed to be the perfect color. Most children love the color purple. It is also the color most favored by artists. Thursday's color is purple.
The Psychological Characteristics of Purple Color
The ultimate goal of the red impulse is to experience and conquest – calm in satisfaction. Red finds its sense in dark blue.
The dark blue means peace and weakened rest; its goal is the restoration, accumulation of forces for deep experiences, and effective conquests. Dark blue finds its semantic sense in red. Both ways lead to unification.
The red way reaches its identification through fighting conquest. Dark blue aspires to identification through self-sacrifice. Both colors, red and dark blue, aspire to identification, unification, and merge in the form of love. The red way is male-patriarchal.
The dark blue way is female – matriarchal. Man's red and female dark blue merge into Purple. According to the average statistical data, the purple color is also preferred by pregnant women; however, right after that, it is either absolutely rejected by them or selected based on individual taste.
A well-known psychologist Wilhelm Wundt attributed the purple color – on the basis of its connection with red and dark blue at the same time – the propensity to gloomy – melancholic gravity and excitement – to a melancholy mood. This Bundt probably meant the twilight purple – dark blue color.
Wundt's pupil Stefanesku – Goanga has neatly characterized the action of this color as "the veiled excitation." This is like an experimentally found value that is also fair for middle-light nuances of violet color.
Gottfried Haunt, in his dissertation "Color symbolic in sacral art," writes: "While black means absolute nothing, violet represents the hidden secret …". Like in medieval glass painting (painting windows in churches), and it remained till nowadays Roman – Catholic church cult, violet is a color of sincere repentance, humility, mildness, sacred solitude. Purple is a color that is not so simple to understand.
Red and dark blue, male and female, active and passive – these two opposites are destroyed in violet.
Nikolaus Kuzanus, who wearied a ring with a violet stone, who as the cardinal was above sexual communications, who was the first that united the Middle Ages and the present, theology and philosophy, the speculative mysticism and natural – scientific experimentation and named his creation "Conscious ignorance" created for violet color an affirmed concept of "Cointidentia oppositorum" that means destruction, or harmony of contradictions.
Kuzanus distinguished 4 steps of knowledge. The highest, which comprises all previous, is "mystical contemplation." This unity even merges the beholding subject and beheld object, the immemorial contradiction of experience and thinking.
By this last merge are destroyed all contradictions and contrasts are, and the Purple color is this mystical union. Purple color is also a magic identification – for example, between human and animal, the so-called totem, which Levi – Brjul has established in primitive patrimonial religions.
The destruction of subjective-objective contrasts, mystical, magic, and magic, can destroy the contrast between desire and validity; all this is purple color. This is its magic, and this magic is its charm.
Meaning of Purple Flowers
| | |
| --- | --- |
| Name of Purple Flowers | Meaning of purple flowers |
| Aster | Daintiness, Symbol of Love |
| Carnation Purple | Antipathy and Capriciousness |
| Geranium | Friendship |
| Heather Purple | Admiration, Beauty and Solitude |
| Hyacinth purple | I am sorry, Please forgive me, Sorrow |
| Iris | Faith, Wisdom, Valor, Your Friendship means so much to me |
| Petunia | Anger and Resentment |
| Phlox | Sweet Dreams |
| Rose | Love, Desire, Respect, Courage, Job well done |
In a nutshell, What are the best plants with purple flowers to grow?
Before we dive into the details of each flower below, let's summarize them here.
From passionate plums to ladylike Lavender—there's hardly a message or wish that a purple floral arrangement doesn't perfectly convey. Exotic and striking or soft and sweet, purple flowers send a message of pride, dignity and admiration.
There are many choices for each color that a couple may choose. Here are a few different flowers that are available for the color purple.
Asters are one type of flower that comes in the color purple. They are a smaller flower and generally serve the purpose of accent flowers in a floral arrangement. The blossoms on the plant are situated in clusters. They are most commonly found in late summer and fall. These flowers also boast a yellow center.
Irises are another popular flower that also comes in shades of Purple. Some variations are completely purple in color and others are a combination of Purple and white. They come in two main varieties. There are bearded irises and non-bearded irises. These flowers are generally more available during the summer months.
Tulips are a more unusual choice, but also come in Purple. These flowers are best known as a spring flower and make an excellent addition to a spring wedding. There are several different types of tulips available. Field tulips generally have a smaller head on them. Greenhouse tulips have medium sized heads and French tulips have the largest heads.
One type of flower that is great for an accent flower is purple sweet peas. These flowers originated in Italy back in the 17th century. Sweet peas are very fragrant in the evening which makes them a great addition to floral arrangements for an evening wedding. These flowers come on a long stem filled with clusters of blossoms.
Purple phlox is another type of flower that is good for an accent. These are also smaller flowers that are in a cluster at the top of the stem. This is also a fairly leafy plant which gives more green to the floral arrangements as well.
Lavenders are a must, if you want to add color as well as fragrance to your summer garden. Lavenders grow to a height of 2½ to 3 feet. These plants have silver-grey foliage, that are in sharp contrast to the stunning lavender spiked flowers.
The flowers vary in shades of Lavender to purple, though they are some species that produce pinkish white flowers. Lavenders are a native of the Mediterranean region, but they also thrive well in other conditions. For a beautiful purple flower garden, you can use lavenders as low border plants or even as foreground perennials.
Lilac: Considered a harbinger of spring, Lilacs are loved for their fragrant lavender flower clusters. These plants grow up to 8 to 15 feet tall and they make excellent hedges. Some dwarf varieties of Lilacs reach only 3 to 4 feet in height. Lilacs grow well in alkaline soil having proper drainage. After they are planted, you can mulch them with a layer of pine bark. Mulching helps the soil retain water.
The beautiful purple flowers, which are loved by many people look very good and attract a lot of attention. Purple flowers symbolize peace and beauty. Purple flowers make excellent bouquets. Imagine a bridal bouquet with iris and lilacs in it. Purple flowers can be easily obtained from florists. Purple flowers will definitely add richness and elegance to your action.
Aster
This is a large genus, the type form for the daisy (Asteraceae) family and consist of over 250 species mostly from the northern temperate zones, with a toehold in South America. Most of all they are herbaceous perennials but also include annuals, biennials, and a few rather shrubby species. While some, usually the alpines, form low clumps, most have erect stems topped with massed compound flower heads.
The leaves are simple, linear, sometimes with toothed edges and lance or spatula-shaped. The flowering period continuous from summer to mid-autumn, the dominant colors are: pink, mauve, and Purple. Asters are also known as Michaelmas daisies. The Asters are named so because of the flower head's shape, and is translated from Latin as "star".
Cultivation
The most of Asters can survive in cold and frosty times; they prefer a full sun position with moist well-drained soil. Good air circulation is needed in order to prevent mildew developing. Deadheads need to be removed in order to encourage flowering. They can propagate by division during dormant or from spring basal cuttings.
Top Tip: When dividing asters, discard the older middle section and replant sections from the outer part of the clump to achieve strong new growth.
Name
Flower color
Blooming Season
Flower Fragrance
Plant Height
Plant Width
Hardiness Zone
Frost Tolerance
Aster ericoides
White, blue, pink
Summer to summer
No
30-40 in
75-100 cm
20-30 in
50-75 cm
3-9
Yes
Aster frikartii
Violet-blue
Late summer to early autumn
No
20-30 in
50-75 cm
15-24 in
38-60 cm
5-9
Yes
Aster novae-angliae
Violet to Purple
Late summer to early autumn
No
4-5 ft
1.2-1.5 m
2-4ft
0.6-1.2 m
4-9
Yes
Aster novae-angliae 'Andenken an Alma Potske'
Cerise-pink
Late summer to early autumn
No
4ft
1.2 m
2ft
0.6 m
4-9
Yes
Aster novi-belgii
Violet to Purple
Late summer to early autumn
No
4ft
1.2 m
3ft
0.9m
4-9
Yes
Aster sedifolius
White to pale blue
No
36 in
90 cm
20 in
50 cm
7-9
Yes
Purple Iris Flower
Iris is the genus type from the Iridaceae family and is presented by 300 species of bulbous, fibrous, and rhizome-rooted perennials that are widely spread throughout temperate northern regions. Most of them have dense foliage clumps with fans of grassy to sword-shaped leaves.
The model of their flowers is a fleur-de-lis that have 6 petals, 3 of them are erect petals known as standards and 3 that droop, the falls. The Iris is named so in honor of the Greek goddess of the rainbow, its flowers have all the specter of colors and very often have different combinations of colors. Depending on the species Iris can blossom from the late winter to the late summer. Also Iris germanica is the flower of the state Tennessee.
Top Tip: Irises may become overcrowded after several years. They can be divided when dormant, at which time any spent plants should be discarded.
Cultivation
Irises can grow in different types of soil but all of them prefer sunny or half-shaded places. Different types of irises need different types of soil, for example: woodland irises require moist well drained soil; Bog irises need permanently damp soil; bearded irises should be kept dry but when they actively grow and blossom they need a moist soil; irises need moist but perfectly drained gritty soil. Irises propagate by division during dormant.
Name
Flower color
Blooming Season
Flower Fragrance
Plant Height
Plant Width
Hardiness Zone
Frost Tolerance
Iris ensata
White, purple, Lavender
Late spring to early summer
No
36 in
90 cm
12-40 in
30-100 cm
4-10
Yes
Iris laevigata
Purple, Mauve, White
Summer
No
24-60 in
60-150 cm
60 in
150 cm
3-9
Yes
Iris pallida
Blue, Yellow,
Early Summer
Yes
36-48 in
90-120 cm
12 in
30 cm
5-9
Yes
Iris sibirica
Blue, Purple, White
Late spring to early summer
No
24-48 in
60-120 cm
8-24 in
20-60 cm
4-10
Yes
Iris, Arilbred Hybrids
White, Blue, Red
Spring to summer
No
12-30 in
30-75 cm
8-18 in
20-45 cm
5-9
Yes
Iris, Californian Hybrids
Yellow, Pink, Purple
Spring to summer
No
10-20 in
25-50 cm
12 in
30 cm
5-9
Yes
Iris, Dutch Hybrids
Bluue, Violet, Yellow, Orange
Late spring
No
10-36 in
25-90 cm
6-18 in
15-45 cm
5-9
Yes
Iris, Dwarf Bearded
Various
Late spring
No
8-15 in
20-38 cm
12-24 in
30-60 cm
3-10
Yes
Iris, intermediate Bearded
Various
Mid-spring to early summer
No
10-27 in
25-70 cm
3-7 ft
0.9 – 2 m
3-10
Yes
Iris, Louisiana Hybrids
Various
Late spring to early summer
No
18-60 in
45-150 cm
18-24 in
45-60 cm
6-11
Yes
Iris, Spuria Hybrids
Various
Late spring to early summer
No
24-48 in
60-120 cm
18-24 in
45-60 cm
4-9
Yes
Iris, Tall Bearded
Various
Late spring
No
30-36 in
75-90 cm
6-18 in
15-45 cm
3-10
Yes
Purple Petunia Flower
When we think about petunias, we think of the fancy garden petunias and it's difficult to imagine, but petunias are members of the nightshade (Solanaceae) family, though more closely allied to tobacco. This tropical South American genus has about 35 species and most of them are low spreading plants with simple, rounded, downy leaves and large 5-lobed flowers.
The fancy garden forms lost their charms, but the wild species are often aromatic with scented flowers. Though, they compensate the lost of the charms by the abundance of blooms and a wealth of color. The flowers of the modern petunias are weather resistant and in mild climates can flower the whole year.
Top Tip: Planted in full sun, petunias put on a superb floral display. If planted in shade, the lush foliage will flourish but fewer flowers will be produced.
Cultivation
Petunias require moist well-drained soil and sunny places, also the dead flowers have to be removed frequently in order to keep the plants flowering. Perennials propagate from cuttings and the fancy double and large flowered forms are raised from seeds.
Name
Flower color
Blooming Season
Flower Fragrance
Plant Height
Plant Width
Hardiness Zone
Frost Tolerance
Petunia hybrid
Various
Summer
No
4-16 in
10 – 40 cm
8-40 in
20-100 cm
9-11
No
Petunia , Fantasy Series
Various
Spring to summer
No
10-12 in
25-30 cm
10-12 in
25-30 cm
9-11
No
Petunia hybrid, Mirage Series
Various
Summer
No
4-16 in
10 – 40 cm
8-40 in
20-100 cm
9-11
No
Petunia hybrid, Storm Series
Purple, Pink
Summer
No
12 in
30 cm
12-15 in
30-38 cm
9-11
No
Petunia hybrid, Surfina Series
Purple, Pink, Mauve, Blue
Summer
No
4-16 in
10 – 40 cm
8-48 in
20-120 cm
9-11
No
Petunia integrifolia
Violet, Purple-pink
Late spring to late summer
No
12-24 in
30 – 60 cm
24 in
60 cm
9-11
No
Purple Phlox Flower
This genus perennials belongs to the phlox (Polemoniaceae) family from North America that contains 67 species of annuals and perennials plants. This genus varies a lot, starting from carpeting rockery ground covers through wiry-stemmed trailers to large bushy perennials that have strong erect stems.
Their foliage is also very different; they can have tiny linear leaves or lance-shaped dark green foliage over 4 in (10 cm) long. When blossoming their showy flower heads is small long-tubed with 5 widely flared lobes. Depending on the species the flowering season runs from spring to autumn, the predominant flower colors are pink, purple and white.
Top Tip: After flowering phlox plants should be trimmed back to remove all spent flowers. Thin out overcrowded plants at the same time to encourage healthy vigorous growth next season.
Cultivation
The phloxes prefer full sun or half shade places. The phloxes that are grown in hanging baskets and rockery phloxes need fairy light soil. Border phloxes need a heavier soil that is richer with humus and sometimes they may need staking. The good ventilation is necessary to prevent late-season mildew. The phloxes can propagate in different ways: from seed or cuttings, or by division, it depends on the species.
Division and basal stem cuttings from perennials in this genus produce flowering plants in the same year. Aerial parts of phlox are prone to nematode infestation, which is often not easily detectable, so herbaceous border kinds in particular should be increased from root cuttings. Seeds do not usually transmit nematode infestations, cither.
Division
Divide only healthy herbaceous phlox in spring alpines in early autumn. Mat-forming alpines do not respond well to division. Single bud divisions are also possible.
Seeds
Sow seeds of species at 59°F (15°C) to germinate in 7 – 1 0 days. Shade seedlings of woodland species. Plants flower in the second year.
Cuttings
Alpines that have suitable shoots, and woodland species, may be increased from basal stem cuttings in early spring. They will root at 59°F (15°C). Alternatively, take softwood stem-tip cuttings in late spring; this is a good way of increasing mat-forming alpines.
Cuttings of smaller alpine species may be only 1 in (2.5cm) long; root them in a mixture of equal parts sharp sand and sterilized soil. In autumn, lift border phlox and take 1 in (2.5cm) cuttings from thicker roots; place horizontally in trays.
FName
Flower color
Blooming Season
Flower Fragrance
Plant Height
Plant Width
Hardiness Zone
Frost Tolerance
Phlox Carolina
Pink, Purple
Spring to early summer
No
48 in
120 cm
16-24 in
40 – 60 cm
5-10
Yes
Phlox divaricate
Blue, Lavender, White
Spring
Yes
15 in
38 cm
20 – 40 in
50 – 100 cm
4-9
Yes
Phlox douglasii
Pink, Red, Mauve, Purple
Spring to early summer
Yes
2-6 in
5-15 cm
12-20 in
30 – 50 cm
5-10
Yes
Phlox drummondii
Pink, Red, Mauve, Cream, Purple
Summer to autumn
Yes
6-15 in
15-38 cm
8-16 in
20-40 cm
6-10
Yes
Phlox paniculata
Pink to red, Purple, White
Summer to autumn
Yes
24-48 in
60-120 cm
16-36 in
40-90 cm
4-9
Yes
Phlox subulata
Pink, Lavender – Blue, White
Late spring to early summer
No
2-4 in
5-10 cm
12-30 in
30-75 cm
3-9
Yes
Geranium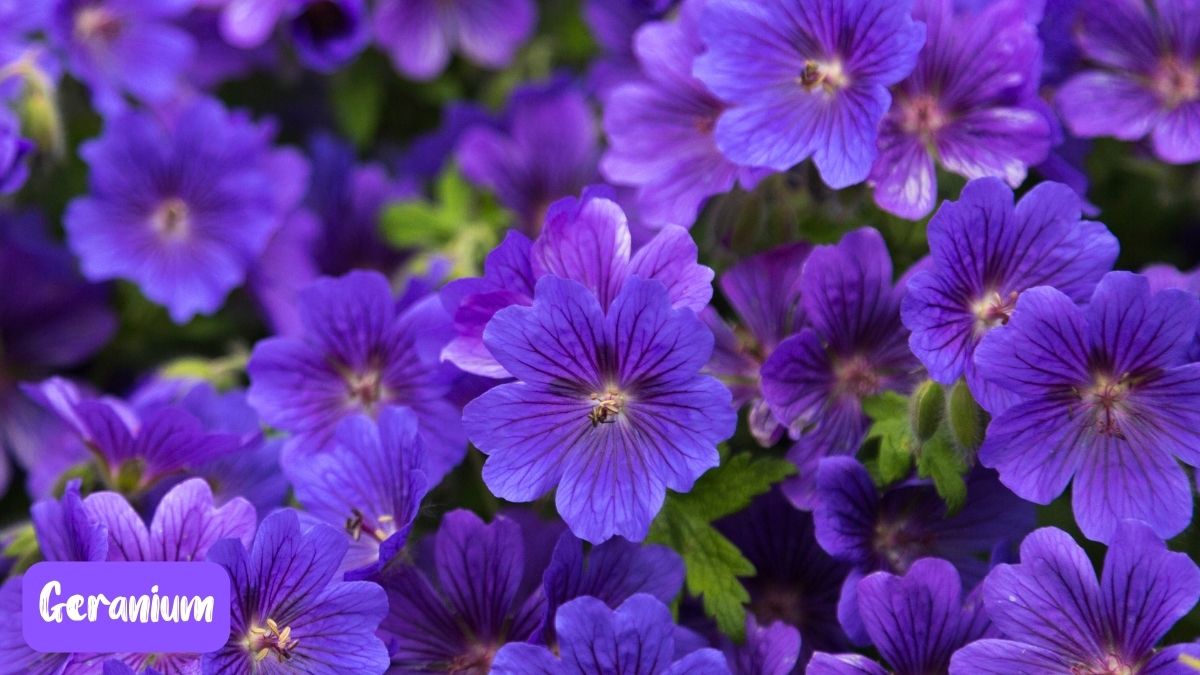 There is a great deal of confusion about geraniums and pelargoniums, especially in public gardening, as most people call the flowers geraniums, while they are actually pelargoniums.
The real geraniums comprise a genus comprising around 300 species of perennials and sub-shrubs that spread throughout the temperate zones. Many are low plants with purple-pink flowers that spread, but a few, such as Geranium maderense, are much larger and have large sprays of blooms and semi-woody stems. The garden forms are of different colors; they can be white, pink, and purple-blue.
Geraniums have long been used in herbal medicine, and some species yield aromatic oils used in fragrances.
Top Tip: Geraniums are happy left to themselves until overcrowding becomes a problem. Dividing the clump in the spring should rectify the problem.
Cultivation
Requirements of cultivation are very different, and so is the hardiness. Many can grow in poor soil and survive frosty times, but some are rather tender and prefer the damp ground. But usually, most of them require moist, well-drained soil and a sunny and airy place. Propagate from seed or by division.
Name
Flower color
Blooming Season
Flower Fragrance
Plant Height
Plant Width
Hardiness Zone
Frost Tolerance
Geranium' Ann Folkard'
Magenta with a black center
Mid-summer to mid-autumn
No
24 in
60 cm
36 in
90 cm
6-9
Yes
Geranium harveyi
White to light pink
Late spring to autumn
No
4 in
10 cm
30 in
75 cm
7-9
Yes
Geranium' Johnson's Blue'
Bright blue to purple-blue
Spring to autumn
No
18 in
45 cm
24-48 in
60-120 cm
6-9
Yes
Geranium palmatum
Red-pink
Summer
No
40 in
100 cm
24 in
60 cm
9-11
Yes
Geranium phaeum
Purple-black, maroon, mauve
Late spring to early summer
No
30 in
75 cm
18 in
45 cm
5-10
Yes
Geranium renardii
White with Purple
Early summer
No
8-12 in
20-30 cm
12-16 in
30-40 cm
6-9
Yes
Purple Anthurium Flower
They represent a cluster of upright stems bearing oversized, deep green, lance- to arrowhead-shaped leaves. The flowers are topped with heart-shaped bract or spate that look like leaves that often become purple, red, cream, or pink as the long flower spike or spadix develops. Anthuriums are also grown as cut flowers.
Although some species are used in medicine where they occur naturally, all parts of the plant are toxic and such use, even externally, is not encouraged.
Top Tip: As houseplants in non-tropical areas, anthuriums need bright indirect light, moist well-aerated soil, and regular feeding to produce flowers.
Cultivation
As these plants are tropical plants, they constantly need warm, humid conditions to flower well. They need moist humus-rich soil and a part-shade place. They can survive during cold periods but should not be exposed to cold drafts. They need to be fed well to have beautiful foliage and continuous flowering. They usually propagate by division, though they can also be raised from seed.
Name
Flower color
Blooming Season
Flower Fragrance
Plant Height
Plant Width
Hardiness Zone
Frost Tolerance
Anthurium
andraeanim
Bright red
All Year
No
24 in
(60 cm)
8-12 in
20-30 cm
11-12
No
Anthurium
ferrieranse
Various
All Year
No
24-60 in
(60-150 cm)
15-30 in
38-75 cm
11-12
No
Anthurium
scandens
Green to purple
All Year
No
3-10 ft
0.9-3 m
1-3ft
0.3-0.9 m
11-12
No
Anthurium
scherzerianum
Bright red
All Year
No
15-30 in
38-75 cm
12-20 in
30-50 cm
11-12
No
Anthurium
upalaense
Purple-tinted, yellow-green
All Year
No
18-30 in
45-75 cm
36-60 in
90-150 cm
12
No
Anthurium
warocqueanum
Green
All Year
No
2-5 ft
0.6-1.5 m
8ft
2.4 m
12
No
Purple Rosa Flower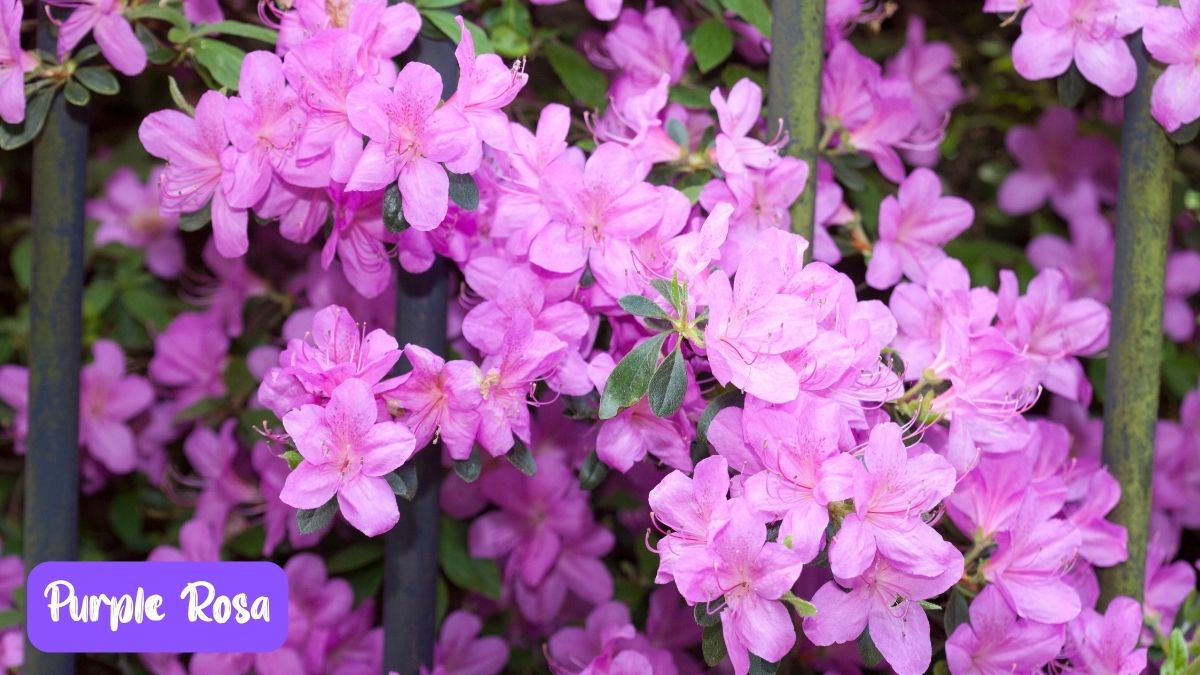 The most widely spread, grown, and the most lovely plant is the family of the genus Rosa, the type genus for the rose (Rosaceae), which is made up of over 100 species of mainly deciduous shrubs and scrambling climbers found in the northern temperate and subtropical zones. The wild species of the genus have simple 5-petalled "purple" flowers that can be fragrant or not.
Brightly colored, nearly dry fruits follow; they are known as hips or heps and are very rich in vitamin C. Rose foliage is usually pinnate, with a few large, toothed leaflets or sometimes many small leaflets. For garden purposes, rose species are not classified in groups as many other genera.
However, the garden hybrids are divided into groups depending on their parentage and growth form. Here are included very well-known types, such as Cluster-flowered (Floribunda), Gallica, Large-flowered (Hybrid Tea), Bourbon, and Miniature, and the groups that are not so widely cultivated, such as Portland, Noisette, and Moss. Roses were for centuries cultivated for garden use, and now there are a lot of varieties of forms and all flower colors except blue.
Roses have been widely used as symbols and have had so many associations that there is almost no opportunity to single one out. Still, it says something about the popularity of roses: a rose is as old as the Apothecary's rose (Rosa Gallica 'Officinalis'), and the original red rose of Lancaster, which dates from before 1450, is still grown till today. A rose that is loved so much lasts forever, though the continuous cultivation and introduction of new hybrids don't stop, which, by many other names, are "still as sweet."
Top Tip: A simple "tidying up" of dead wood and pruning for size can be just as effective as stricter pruning regimes to maintain strong, healthy growth.
Cultivation
Only the most challenging roses can survive in severe continental winters though most roses are very frost-hardy. To minimize the risk of fungal diseases and to promote heavy flowering, they need a very sunny and well-ventilated position.
Roses need moist, fertile, humus-rich soil, and in most areas, there is extra water they benefit from while in flower. Commercially grown roses are most often budded onto rootstocks that have been developed specifically for that purpose.It is quite an easy process, but it needs suitable seedlings of cutting-grown stocks.
Not all the types produce good root systems, so the winter hardwood and summer half-hardened cuttings will have to strike. Usually, the seed needs to be stratified, and hybrids will not come true to rose types from the seed.
In contrast to the widespread notion, all types of roses, including species roses, traditional garden roses, and modern cultivars, may be easily propagated, even by gardeners who have only a little amount of area available. Roses are propagated in basically three ways. Cuttings are the most convenient method for a gardener to use, but they are not advised for the production of high-quality plants from the majority of contemporary hybrid tea or floribunda roses.
Grafting roses or T-budding roses, two techniques that are preferred by professional producers, involve considerable preparation and rootstocks that have been developed in advance, but they often result in plants that are more robust.
Raising roses from seeds can be challenging and is usually most reliable with species roses. However, the rose is a classic candidate for hybridization, and some amateur rose growers have produced worthwhile cultivars.
Taking Cuttings
Hardwood cuttings are most successful from miniature, groundcover, and species roses, as well as some older Rosa wichurana (syn. R. wichuraiana) ramblers; they are taken in much the same way as for other shrubs.
Although a controlled environment and a little care are required, increasing roses from softwood cuttings has proved very effective for some of the more difficult species and cultivars, such as R. banksiae and R. 'Mermaid', as well as for mass-production of pot roses.
Hardwood Cuttings of Roses
First, prepare a slit trench in semi-shade, about Sin (20cm) deep, and sprinkle some sharp sand along the bottom to improve the drainage. Collect the appropriate shoots, and then clip each one at an angle right above a bud that is pointing outward.
Place the shoots in damp newspaper or moss to prevent them from drying out before they can be prepared. Divide the stems into 9 inches (23cm) lengths, removing all but the top two leaves and cutting through a bud at the base of each cutting. There is no need to leave a heel.
After you have dipped the bottoms of the cuttings in water and then in the hormone rooting powder, lay them in the trench at intervals of 4-6 inches (10-15 centimeters) apart. The trench should be filled in and made into a mound so that the leaves are at the same level as the soil. Stable and with a good water content. When the circumstances are dry, preserve the cuttings by covering them with mulch made of black plastic.
After one year, rooted cuttings may be put out in the garden (see above). Quicker results may be obtained by rooting 3in (8cm) cuttings in rooting medium in 3in (8cm) pots under cover, supplying bottom heat of approximately 21°C (70°F) in a closed case or on a propagating blanket. The rooted cuttings should be ready for planting by the following spring. This works particularly well for most groundcover and miniature roses.
Softwood Cuttings of Roses
It is best to take cuttings from plants that have been trained to create new growth by performing severe pruning on them in the early spring. This should be done in an area that is shielded from the elements, such as a greenhouse. If they have not been subjected to any pesticides, the first new shoots that appear on garden plants may also be used to take cuttings. However, hybrid teas and grandifloras cannot be successfully grown using this simple method.
When fresh shoots are just 1 to 2 inches (2.5 to 5.5 centimeters) long and do not need any pruning, the early to middle stages of spring are the finest times to obtain softwood stem-tip cuttings. During the summer, it is possible to take internodal stem cuttings from longer soft shoots (see facing page). Treat all of the cuttings with a hormone rooting chemical and a systemic fungicide to help them take root and prevent the cuttings from rotting.
When placing the cuttings into the medium or the Rockwool, take care to ensure that they do not contact one another. The cuttings should be kept in an environment with a high humidity level. This may be accomplished by enclosing them in a plastic bag, keeping them in a closed cabinet, or using a mist unit.
At initially, provide bottom heat of around 81 degrees Fahrenheit (27 degrees Celsius), and then after about four weeks, drop it to 64 to 70 degrees Fahrenheit (18 to 21 degrees Celsius). In order to toughen up the cuttings that have already been rooted, progressively decrease the amount of time that they are covered. Individually repot each one in a soilless mixture into pots that are 3 inches (8 cm) in diameter.
Using this method, a plant of a respectable size may be developed in around two months. Reduce the height of the young plants by about fifty percent via cutting down. In commercial nurseries, it is usual practice to use the prunings as material for future propagation since the prunings give extremely excellent material.
Name
Flower color
Blooming Season
Flower Fragrance
Plant Height
Plant Width
Hardiness Zone
Frost Tolerance
Rosa
glauca
Pink fading to
white in center
Summer
Yes
6ft
(1.8 m)
6ft
(1.8 m)
3-10
Yes
Rosa
moyesii
Deep red
Summer
No
10 ft
(3 m)
10 ft
(3 m)
5-10
Yes
Rosa
rugosa
Light to
deep pink
Summer to
autumn
Yes
5-8 ft
(1.5-2.4 m)
5-8 ft
(1.5-2.4 m)
2-10
Yes
Rosa, Modern, Clusterflowered
(Floribunda
Various
Summer to
autumn
Yes
3-5 ft
(0.9-1.5 m)
2-4 ft
(0.6-1.2 m)
5-11
Yes
Rosa, Modern,
Hybrid Rugosa
White, pink,
yellow, red
Summer to
autumn
Yes
3-7 ft
(0.9-2 m)
3-7 ft
(0.9-2 m)
3-10
Yes
Rosa, Modern, Large-flowered
(Hybrid Tea
Various
Summer to
autumn
Yes
4-7 ft
(1.2-2 m)
3-5 ft
(0.9-1.5 m
4-11
Yes
Rosa, Modern,
Miniature
Various
Summer to
autumn
Yes
8-30 in
(20-75 cm)
8-18 in
(20-45 cm)
5-11
Yes
Rosa, Modern,
Modern Shrub
Various
Summer to
autumn
Yes
4-8 ft
tl .2-2.4 m)
4-8 ft
tl .2-2.4 m)
4-10
Yes
Rosa, Modern, Pati (Dwarf Cluster-flowered)
Various
summer to
autumn
No
2ft
(0.6 m)
6 ft
(1.8 m)
4-11
Yes
Rosa, Modern,
Polyantha
Various
summer to
autumn
No
24 in
(60 cm)
18 in
(45 cm
3-10
Yes
Rosa, Old,
Alba
White,
pale pink
mid-summer
Yes
6-8 ft
(1.8-2.4 m)
4-6 ft
(1.2-1.8 m)
4-10
Yes
Rosa, Old,
Bourbon
White,
pink, red
summer to
early autumn
Yes
4-7 ft
(1.2-2m)
3-6 ft
(0.9-1,8 m)
6-10
Yes
Rosa, Old,
China
Pink, red
summer to
autumn
Yes
3-6 ft
(0.9-1.8 m)
3-6 ft
(0.9-1.8 m)
7-11
Yes
Rosa, Old,
Damask
white,
pale pink
spring or
summer
Yes
3-7 ft
(0.9-2 m)
3-5 ft
(0.9-1.5 m)
5-10
Yes
Rosa, Old,
Gallica
pink, red,
pinkish Purple
spring or
summer
Yes
4-6 ft
(1.2-1.8 m)
3-5 ft
(0.9-1.5 m)
5-10
Yes
Rosa, Old,
Hybrid Perpetual
white, pink,
red
spring to
autumn
Yes
4-7 ft
(1.2-2 m)
3-5 ft
(0.9-1.5 m)
5-10
Yes
Rosa, Old,
Moss
white, pink
summer
Yes
4-6 ft
(1.2-1.8 m)
4-6 ft
(1.2-1.8 m)
5-10
Yes
Rosa, Old,
Tea
cream, yellow,
pink, red
summer to
autumn
Yes
4-7 ft
(1.2-2 m)
3-5 ft
(0.9-1.5 m)
7-11
Yes
Purple Calluna Flower
Although there are hundreds of Scotch heather (or ling) cultivars, there are but one species: a small, spreading, mounding, evergreen shrub belonging to the heath (Ericaceae) family.
Found in open moorlands through much of the temperate and subarctic Northern Hemisphere, wild Scotch heather has wiry stems and tiny, closely overlapping leaves. It produces a haze of small purple flowers and mauve-pink flowers from late summer.
Cultivars have been developed in a wide range of sizes and foliage colors, with white, pink, mauve, or purple-red flowers. Scotch heather has a long history of local medicinal use, and extracts of its flowering stems have antiseptic properties.
Top Tip: Calluna plants: Must be grown in well-drained soil, as their roots are highly susceptible to disease in very damp conditions. The earth must also be lime-free.
Cultivation
Scotch weather is very cold and hardy but tends to be short-lived in areas with hot summers. Plant in a sunny position with excellent, moist, humus-rich, acidic soil. Add plenty of peat or leaf mold at planting time to give the bushes a good start. The best time to trim is after flowering or in late winter. Propagation is usually from half-hardened cuttings, though established plants often self-layer.
Name
Flower color
Blooming Season
Flower Fragrance
Plant Height
Plant Width
Hardiness Zone
Frost Tolerance
Calluna vulgaris
Mauve-pink
Mid-summer to late autumn
No
24 in
60 cm
30 in
75 cm
4-9
Yes
Calluna vulgaris "Blazeway"
lilac
Mid-summer to late autumn
No
12-18 in
30-45 cm
18-24 in
45-60 cm
4-9
Yes
Calluna vulgaris "Gold Haze"
White
Mid-summer to late autumn
No
10-12 in
25-30 cm
12-18 in
30-45 cm
4-9
Yes
Calluna vulgaris "Kinlochruel"
White
Mid-summer to late autumn
No
8-10 in
20-25 cm
12-18 in
30-45 cm
4-9
Yes
Calluna vulgaris "Robert Chapman"
Purple
Mid-summer to late autumn
No
8-10 in
20-25 cm
24-30 in
60-75 cm
4-9
Yes
Calluna vulgaris "Silver Queen"
Lavender
Mid-summer to late autumn
No
12-18 in
30-45 cm
18-24 in
45-60 cm
4-9
Yes
Gladiolus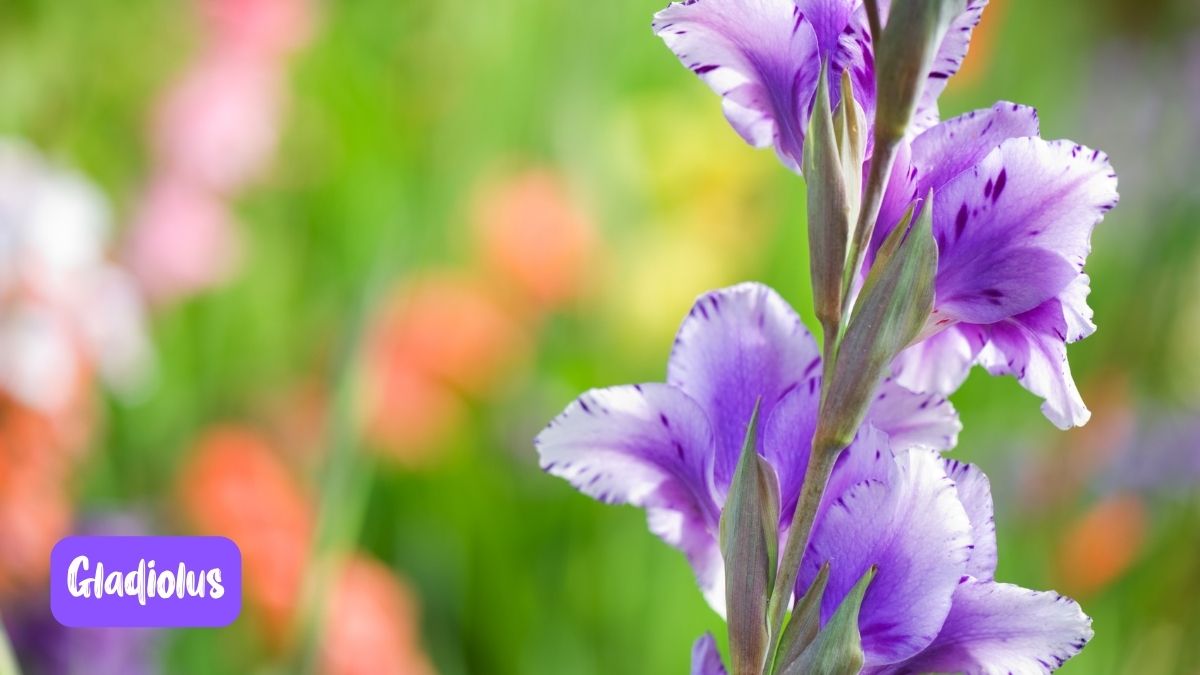 Gladiolus can be found from Europe to western Asia and southern Africa and is presented by about 180 species of cormous perennials; it belongs to the iris (Iridaceae) family. They usually blossom in summer, and the flowers are funnel-shaped and borne in a spike; the leaves vary from grassy to sword-like.
From African species are derived the large-flower garden hybrids, they are the most popular plants because of their showy flowers, and their own charms have the less flamboyant species such as the evening scent of Gladiolus tristis. A gladius—also the origin of the word gladiator—was a Roman sword, and the name reflects the sword-shaped foliage.
Top Tip: Use taller Gladiolus species' height to advantage border plantings. Smaller-growing types make excellent container plants.
Cultivation
Gladiolus requires moist, well-drained soil and a sunny position. They have to be planted deeply to ensure that the stems are well-anchored, sturdy, and less susceptible to wind damage. They have to be well watered when blossoming, then be kept dry. They can be taken from the soil and kept dry in a warmer place in cold areas. Propagate from natural offsets.
Name
Flower color
Blooming Season
Flower Fragrance
Plant Height
Plant Width
Hardiness Zone
Frost Tolerance
Gladiolus callianthus
White with purple or red markings
Late summer to early autumn
Yes
36-40 in
90-100 cm
2-12 in
5-30 cm
9-11
No
Gladiolus communis
Pink with red or white markings
Spring to summer
No
36-40 in
90-100 cm
10-12 in
25-30 cm
6-10
Yes
Gladiolus tristis
Creamy yellow
Spring
Yes
24-60 in
60-150 cm
8-12 in
20-30 cm
7-10
No
Gladiolus viridiflorus
Yellow-green and dull pink
Late autumn to winter
No
6-12 in
15-30 cm
6 in
15 cm
7-10
Yes
Gladiolus Grandiflorus Group
Various
Late spring to summer
No
24-60 in
60-150 cm
12 in
30 cm
9-11
Yes
Gladiolus Primulus Group
Various
Summer
No
24 in
60 cm
12 in
30 cm
9-11
Yes
Rhododendron
Rhododendron is a large genus in the heath (Ericaceae) family. It comprises 800 species of deciduous and evergreen plants that differ from small ground covers to medium-sized trees. While spread throughout most of the northern temperate regions and into the tropics, East Asia is the center of the genus.
The foliage can be of different types, starting from the deciduous azaleas' rough hairy leaves to the Rhododendron Grande's huge, paddle-sized, leathery leaves. The flowers begin in late winter and have a variety of colors except blue; sometimes, they are loosely clustered but often crowded into conical heads called trusses.
The genus can be divided into two main types depending on the presence or absence of leaf scales, and these two types can be divided into many sections and subsections. There are a lot of different types of rhododendrons so gardeners can choose everything they want:
rhododendrons, including those up to 15 ft (4.5 m) tall;
alpine rhododendrons, that have small leaves, wiry stems, and clusters of tiny flowers;
shrub tree rhododendrons, which are characterized by a solitary stem and a dense crown of leaves;
evergreen azaleas are modest to tall shrubs that have semi-persistent leaves and big blooms with a soft texture
deciduous azaleas, which are large bushes with flowers usually in different shades of purple, yellow, red, or orange;
and vireya rhododendrons, which are tender species from tropics which have funnel-shaped blooms and their flowering season is not fixed. Washington and West Virginia respect Rhododendron very much, so Rhododendron is their floral emblem.
Top Tip: Providing their cultural requirements are met, rhododendrons require little maintenance or pruning. Simply removing spent flowers will maintain their beauty.
Cultivation
Rhododendrons need the same as most heath family plants: moist, humus-rich, free draining soil. This is very important in order not to impede the development of their fine roots. Also, to avoid damaging the surface roots, use mulch rather than cultivation for weed control. Species can be raised from seed or from half-hardened cuttings or layers.
This genus includes a wide range of deciduous and evergreen shrubby azaleas and rhododendrons that can be propagated in a variety of ways. Times vary for first flowering, from 2 – 5 years or more.
Cuttings
To root deciduous azaleas, take softwood nodal stem-tip cuttings when the new growth is only an inch or two long, often when the shrubs are still flowering. Apply hormone rooting compound. Cuttings are susceptible to scorch, so shade heavily on bright, hot days.
Placing cuttings under mist works well. Rooting takes 8 – 1 0 weeks. The greater the root growth before autumn, the better since overwintering small rooted cuttings of deciduous azaleas is notoriously difficult. Placing rooted cuttings under fluorescent lights to extend the day length in colder climates is beneficial.
For evergreen azaleas and dwarf rhododendrons, nodal greenwood cuttings root more easily. Many of the evergreen, large-flowered hybrids root best from semi-ripe nodal cuttings. Remove the tips, reduce larger leaves by up to a half, wound, and apply hormone rooting compound. Provide bottom heat of 54 – 68 ° F (12 – 20 ° C) for best results. Rooting takes 10 – 15 weeks.
Seeds
Seeds from hand-pollinated plants often come true to type. Surface-sow, the fine seeds, gathered from dry pods, onto sieved acidic (ericaceous) soil mix.
Name
Flower color
Blooming Season
Flower Fragrance
Plant Height
Plant Width
Hardiness Zone
Frost Tolerance
Rhododendron
augustinii
Mauve-blue to Purple
Mid-spring to summer
No
3-20ft
0.9-6m
2-10ft
0.6-3 m
6-9
Yes
Rhododendron
impedilum
Violet to Purple
Late spring to early summer
No
12 in
30 cm
12 in
30 cm
4-8
Yes
Rhododendron
schlippenbachii
White, pale pink
Late spring
No
15ft
4.5 m
15ft
4.5 m
4-8
Yes
Rhododendron,
Azaleodendron Hybrids
Mauve, pink, yellow, cream
Late spring to early summer
Yes
2-8ft
0.6-2.4 m
2-8ft
0.6-2.4 m
5-10
Yes
Rhododendron,
Ghent Azalea Hybrids
White, pink, red, orange, yellow
Spring
Yes
5-8ft
1.5-2.4 m
3-6ft
0.9-1.8 m
5-9
Yes
Rhododendron,
Hardy Medium Hybrids
Various
Spring
Varied
3-6ft
0.9-1.8m
2-8ft
0,6-2.4 m
3-9
Yes
Rhododendron,
Hardy Small Hybrids
Various
Spring
Varied
1-4ft
0.3-1.2 m
1-5ft
0.3-1.5 m
4-9
Yes
Rhododendron,
Hardy Tall Hybrids
Various
Winter to spring
Varied
6-35ft
0.3-3 m
5-17ft
1.5-5 m
4-9
Yes
Rhododendron,
Indica Azalea Hybrids
Various
Mid –to late spring
No
1-10 ft
0.3-3 m
1-12ft
0.3-3.5 m
8-11
Yes
Rhododendron, Knap Hill and Exbury Azalea Hybrids
Various
Spring
No
4-10ft
1.2-3 m
4-7ft
1.2-2m
5-9
Yes
Rhododendron,
Kurume Azalea Hybrids
Various
Spring
No
2-5ft
0.6-1.5 m
2-5ft
0.6-1.5 m
7-10
Yes
Rhododendron,
Mollis Hybrids
Orange, red, yellow, cream
Mid–spring to summer
No
5-8ft
1.5-2.4 m
3-7ft
0.9-2 m
5-9
Yes
Rhododendron, Occidental
Azalea Hybrids
White, pink
Late spring to early summer
Yes
6-10ft
1.8-3 m
6-10ft
1.8-3 m
6-10
Yes
Rhododendron, Rustica Flore Pleno Azalea Hybrids
White to red
Late spring to summer
Yes
6-10ft
1.8-3 m
4-6ft
1.2-1.8 m
5-9
Yes
Rhododendron,
Satsuki Azalea Hybrids
White, Pink, Purple, Red
Late spring to summer
No
1-3ft
0.3-0.9 m
2-4ft
0.6-1.2 m
7-11
Yes
Rhododendron,
Tender Hybrids
Various
Spring
Varies
3-17ft
0.9-5 m
3-12ft
0.9-3.5 m
9-10
Yes
Rhododendron, Vireya Hybrids
Various
Throughout the year
Varied
1-6ft
0.3-1.8 m
1-5 ft
0.3-1.5 m
9-12
Yes
Rhododendron,
Yak Hybrids
White, pink
Summer
No
1-6ft
0.3-1.8 m
2-6ft
0.6-1.8m
4-9
Yes
Trailing Bellflower
Trailing bellflower, also known as Campanula portenschlagiana, is an alpine species of campanula that may be readily cultivated in rock gardens, on walls, in front of borders, or even in containers due to its hardiness, vigor, and persistence. During the summer months, it produces a voluminous and thick mat of tiny, ivy-like leaves, which are eventually obliterated by the abundance of miniature purple bells.
Russian sage
Perovskia atriplicifolia, also known as Russian sage, is an attractive subshrub that produces masses of lavender-colored blooms carried on branching scented stalks during the end of summer and into the early autumn months. It achieves its greatest performance during this time period.
Sea holly
Eryngiums are an eye-catching addition to gravel gardens and dry, sunny borders where they thrive. They feature blooms that resemble thistles and are composed of several small flowers that are arranged in a compact cluster and are encircled by a ruff of spiky bracts.
Honeywort
Honeywort, also known as Cerinthe major 'Purpurascens,' is an excellent choice for a hardy annual that is suitable for filling in gaps in the decorative border. Bees are drawn to the plant's stunning silvery blue-green foliage and its dainty bell-shaped purple blossoms because of their attractive appearance. It is easy to grow from its own seeds and produces beautiful cut flowers.
Perennial wallflower
Beautiful and floriferous, woody-stemmed perennials, perennial wallflowers, such as Erysimum 'Bowles's Mauve, yield masses of mauve flowers on towering spires for months on end. Some varieties, such as 'Bowles's Mauve,' are known as 'Bowles's Mauve'. It blossoms continuously throughout the year in southern locations.
May Night Salvia (Salvia x sylvestris 'May Night')
May Night salvia is a perennial plant that has a dark bluish-purple color and produces miniature blossoms on flower spikes that are around 2 feet in height. It has a reputation for having a prolonged flowering period from May through June, which makes it an important plant for landscaping.
This particular salvia, like many others of its genus, is an excellent selection for perennial borders, cottage gardens, butterfly gardens, or wildflower gardens. If you want to foster healthy new growth on plants, the optimum time to prune them is in the early spring.
Lamium (Lamium maculatum 'Purple Dragon', Lamium purpureum)
The cultivar known as 'Purple Dragon' of the Lamium maculatum plant has light purple flowers in addition to the plant's silvery leaves, for which it is arguably best known. (Depending on the cultivar, it may also be found in colors like as pink, mauve, red, and white.)
Lamium purpureum, sometimes referred to as purple dead nettle, seldom exceeds a height of 9 inches and has bluish-purple leaves along with blooms that are a combination of red and purple. Lamium plants can't take a lot of foot activity, so it's best to keep them out of the way as much as possible. Because the leaves are so susceptible to being burned, it is advisable to keep the plants out of the direct sunlight.
Columbine (Aquilegia vulgaris)
Flowers of the columbine plant are small and fragile, and they bloom during the months of April and May. At maturity, Aquilegia vulgaris and its cultivars reach heights of around one to three feet. They function well in both rock gardens and cottage gardens.
This plant enjoys the warmth of the sun, but it cannot tolerate extreme temperatures. To prevent the plant's roots from drying out and becoming overheated, a layer of mulch should be applied around the plant.
Vervain (Verbena stricta)
Vervain is a wonderful option to consider if you are searching for a perennial plant that is native to North America and has purple blossoms. These plants really stand out in the landscape because to the tall, purple blooms that are produced by their perennial offspring.
Vervain, a sun-loving perennial that may grow up to 4 or 5 feet tall and has purple flowers, is one of the most underutilized purple-flowering plants. Although it might be challenging to track down plants in the nursery trade, growing plants from seed is a simple process. It is completely unbothered by the deer, and many of our native pollinators enjoy the sweet nectar that it produces. Vervain is hardy to -30 degrees F.
Larkspur (Consolida ajacis)
Tough and resilient annual blooms, true larkspurs (of which Consolida ajacis is the most popular species planted in gardens) belong to the genus Consolida. These plants may reach heights of up to three or four feet and produce thorny flowers that blossom along the main stem of the plant.
They have a rapid growth rate from the seedling stage, blossoming in the spring and summer. These annuals have the potential to freely spread their own seeds and produce new plants year after year. But you should be aware that larkspurs are toxic, so you should avoid planting them in areas where there will be children or dogs.
Lobelia (Lobelia erinus)
The flowering period for lobelia extends from July until the first frost. There are many different types of Lobelia plants, but Lobelia eranus cultivars often produce the trailing blue or purple blooms. Lobelia plants come in a wide variety of colors.
Flowers of the Lobelia genus have five petals, and some of them are tipped with a white eye. Because they are self-cleaning, they do not need any deadheading, which is the removal of wasted flowers. If the plants are suffering from the heat, you may give them new life by trimming them back and then maintaining a consistent watering schedule.
Bear's breeches (Acanthus mollis)
Bear's breeches is an excellent option for those in need of a huge perennial plant that blooms with violet flowers. Every summer, the plant produces spires of hooded blooms that are three feet tall and covered with large, robust leaves that are coated with spines.
Bear's breeches have long-lasting flowers since they like growing in full light. This purple perennial can survive temperatures as low as -20 degrees Fahrenheit in the winter; nevertheless, it requires a lot of space in the garden. The presence of so many spines makes it unattractive to animals like rabbits and deer, so they avoid it.
Jackman's Clematis (Clematis 'Jackmanii')
The Jackman's clematis is a blooming vine that blooms in the middle of summer and produces big, deep purple flowers. The velvety petals make up all four of the abundant flower's sepals. The easiest way to teach the vines to climb is to attach them to trellises, arbors, walls, or fences.
Clematis vines may be difficult to cultivate successfully if they are not grown in full sunshine while the roots are allowed to remain cold. It is possible to do this by applying mulch to the root zone or by growing short plants over the root zone in order to offer shade for the ground.
Monkshood (Aconitum napellus or A. carmichaelli)
The addition of this plant to a garden that already has purple perennials that bloom in the autumn would be a fantastic delight for the gardener. The monkshood is the most recent flower in my garden to begin flowering.
The tall flower spikes don't open up until quite late in the summer and continue to bloom far into October. If you give this plant enough of sunlight, you'll notice that the blossoms have more height. They get a little more floppy when they are in the shade.
Monkshood can withstand temperatures as low as -40 degrees Fahrenheit and may grow up to three or four feet tall. Be aware, however, that every component of this plant is dangerous; thus, it is imperative that you properly wash your hands after dealing with it. Because of this quality, monkshood is not susceptible to being eaten by deer, which is unquestionably an advantageous additional quality.
Heliotrope (Heliotrope spp.)
Growing to a height of between one and four feet, heliotrope is a plant that resembles a shrub and has fragrant flower clusters. These plants start producing flowers in the summer and keep doing so right up until the first frost.
The key to their development is ensuring that the soil always has an equal moisture content. They will perish in soil that is either too dry or too wet for them to survive in either condition. Additionally, since these plants contain toxins, it is important to keep them out of the reach of children and animals.
Tatarian aster (Aster tataricus)
The Tatarian aster is without a doubt my favorite of all the other tall purple perennials that are available. This late-blooming perennial with purple blooms is a magnificent 6 feet tall and is a magnet for monarch butterflies on their annual migration.
At a time of year when there is very little else flowering in the surrounding environment, it is covered with clusters of delicate, lavender-colored blooms that are adored by a wide variety of pollinators. The Tatarian aster can withstand temperatures as low as -40 degrees Fahrenheit and does well when grown in full light.
It also does not need to be staked for support. Even though they don't eat it in my garden, I've heard from other gardeners that their plants are sometimes nibbled on by deer. Even though they don't eat it in my garden, I've heard from other gardeners that they do in their gardens.
Purple Ice Plant (Delosperma cooperi)
The purple ice plant has blooms that have petals that have a very thin texture and are surrounded by solid cores. It flowers during the better part of the summer and into the autumn. The "ice" in the popular name of this plant derives from the shine that can be seen on its leaves.
This sparkle is caused by sunlight reflecting off of the many fine hairs that cover the leaf surface. This perennial plant requires soil that drains quickly, therefore make sure that it is not planted in soil that is always wet.
Russell blue lupine (Lupinus 'Russell Blue')
Lupines are a staple of every sunny perennial garden; yet, I have a hard time cultivating them in my yard because of the thick clay and acidic soil. Lupines are characterized by their tall, spike-like flower clusters that bloom around the end of spring.
Despite what its cultivar name suggests, 'Russell Blue' has a deeper purple hue than a blue one. It's a kind that's definitely worth cultivating if you're looking for plants that have purple blossoms. resistant to browsing by deer and cold hardy to a temperature of -30 degrees Fahrenheit.
Salvia (Salvia nemorosa)
Salvia is yet another kind of blooming perennial that blooms continuously throughout the summer and thrives in warm, sunny, and dry garden areas. Because the flower spikes on this plant are elongated and have square bases, it may be deduced that it is a member of the mint family.
If you remove spent flowers from the plant on a regular basis, you will be rewarded with blossoms for many months. This purple flower may grow up to 18 inches tall and is resistant to damage from animals. It should be included in all gardens.
There are several types with purple flowers that are worth cultivating, such as 'Cardonna' and 'Amethyst,' among others. Another salvia that I find to be quite pleasing is S. sylvestris 'May Night.' Most types are resistant to -30 degrees F.
Purple Wedding Flowers
Purple Flowers are one of the main attributes without which can't handle neither wedding nor bride. A correctly arranged purple flower bouquet will underline the bride's beauty and complete the whole image.
Here it is necessary to understand that different girls with different growth, weight, and hair color need different flowers. And moreover, if the form or the tone of a bouquet is not in harmony with the dress color, even the smartest and the most beautiful dress can seem insipid. Before making such a responsible choice, it is necessary to take into consideration the advice of professional floral artists.
Purple flowers will be in contrast with the white dress of the bride. When choosing purple flowers, you must remember that Purple is already the color of passion and has revealed ardent love. But if you wish to express your feelings with the help of purple roses and the bride has nothing against it, then everything is all right.
If the wedding dress is short, it is not necessary to choose a long bouquet, and on the contrary, with a lush dress, the small bouquet won't be in harmony; it will be simply lost. Because of that, the bride will seem bigger, and the dress even lusher.
Very small or very tall brides have to follow the same rules. A small bride with a big bouquet will look even smaller, and a tall girl with a small bouquet will seem giantess. For plump brides, it is necessary to choose a bouquet of a cascade form instead of a round. Grades of flowers have to be chosen according to the same characteristics.
Petite brides will look more gently with a bouquet of purple roses, as we mentioned the details above, such as purple asters, and purple petunias. And on the contrary, bigger girls need bigger flowers – purple rhododendrons, purple syringes, and purple geraniums.
If you are simply a visitor invited to the wedding, my advice is not to give huge bouquets, because it is very difficult for the bride to keep them in her hands, and they can be rumpled in the car when riding. The big luxurious bouquets are challenging to take out from the car.
That is why it doesn't matter how beautiful your bouquet is; it won't be seen in many photos because it is difficult to handle with it.
The big bouquets and large flowers are good in the case when they are fresh and are given on a celebration where the mistress will put them at once in a vase, and your flowers will decorate the holiday, creating mood and comfort in the house.