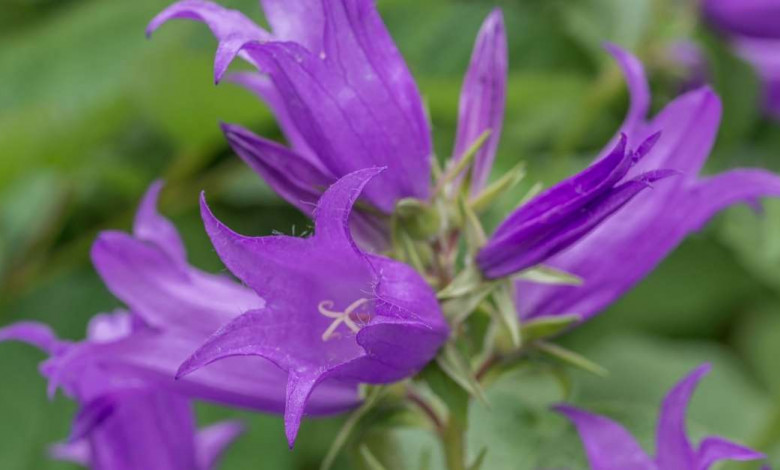 The bellflowers or campanula family all come with a bit of a warning. They're spreading plants and can be extremely invasive if they find a garden soil they like.
Having said that – as soon as you see the gorgeous blue, pink or white flowers, you really won't care if they spread like mad in the garden. You'll be in love.
Growing Bellflower – Conditions
Full sun or part shade
Average garden soil is fine, they prefer well-drained soil, and the only time I ever lost them was in bog settings.
Most are hardy to USDA 4 with absolutely no problem and down into 3 with the odd loss. The biennial form is a little more tender in my garden experience.
Propagation
Not a problem. Grow it once, and you're set for life. It sets copious quantities of seed so you can easily start them from seed (note the hybrids don't necessarily come true from seed).
They are also spreaders by rhizomes so that an early spring division will see you quickly populate your garden.
You might want to see this: Growing Butterfly Bush (Buddleia) | Awesome Perennial For Your Backyard
Varieties
C. glomerata 'Joan Elliott' deep violet cluster, spreader, and clumper, 18″ tall
C. punctata 'Cherry Bells' bright cherry pink blooms, good cut flower, 24″ tall, aggressive spreader
C. punctata 'Plum Wine' light pink flowers on tall stems, leaves silvery overlay above and burgundy below. Aggressive.
C. persificolia 'La Belle' taller upright stems of deep blue flowers, 24″ tall,
C. trachelium 'Bernice' lilac-blue, fully double blooms, 24″ tall, bristly leaves
'Sarastro' (hybrid) grape purple, 2-inch blooms, 18″ tall and very heavy bloomer, upright growth