During hot summer days, it might be a hassle to decide what to cook – delicious, light, and vegetarian meals. Here are very tasty and simple to prepare 5 Vegetarian summer recipes easy to make -to help you decide easier.
1) Vegetarian Eggplant tart with tomato salad
Per serving: kcal: 567 45 min + cooling and baking time
INGREDIENTS
For 4 servings
200 gr of flour
30 gr brown millet,
Salt,
120 gr cold butter, (in flakes)
2 young eggplants, (approx. 600 gr)
Needles from 1 sprig of rosemary
4 young cloves of garlic
150 ml cream
100 ml sour cream
2 eggs,
100 gr goat cream cheese
Black pepper from the mill
5 tablespoons of olive oil
600 gr yellow tomatoes
Juice of 1 lemon
1/2 bunch coriander leaves
also:
A tart pan with a diameter of 28 cm
Dried legumes for blind baking
You might like to see this: 10 Tips for saving energy when cooking
PREPARATION
Mix the flour, millet, 1 large pinch of salt, butter, and 60 ml of cold water first with the kneading hook of the hand mixer, then quickly knead with your hands to a smooth short pastry. If possible knead in a little icy water if the dough is too dry. Shape the shortcrust pastry into a flat brick and wrap it in cling film to cool for at least 1 hour.
In the meantime, preheat the oven to 430 degrees (220C). Clean the eggplants and cut lengthways into thin slices. Chop the rosemary finely. Peel and finely chop garlic. Mix the cream, sour cream, eggs, cream cheese, rosemary and garlic, season with salt and pepper.
Grease the tart pan with 1 tablespoon of olive oil. Roll out the short pastry on a floured surface slightly larger than the shape in a circle and line it with the dough, press the edge down slightly, cut off any excess dough. Prick the bottom several times with a fork. Place a sheet of baking paper on top and weigh it down with legumes. Bake the shortcrust pastry on the middle rail for 15 minutes. Take out, remove legumes and baking paper and let cool slightly.
Place the aubergine slices in a circular shape in the mold, from the outside inwards, pour the egg over them. Bake the tart on the middle shelf for about 45 minutes. Tastes hot or cold.
Meanwhile, the tomatoes have been drunk and cut into wedges. Whisk 4 tablespoons of oil with 1-2 tablespoons of lemon juice, salt and pepper. Pluck the coriander leaves from the stems and roughly chop them, mix with tomatoes and dressing. Serve the tomato salad with the eggplant tart.
Zucchini flatbread with fresh goat cheese (Zucchini flatbread Pizza with cheese)
per serving kcal: 329 40 min + walking and baking time
INGREDIENTS
For 4 servings
200 g strong flour (type 550)
1 tsp dry yeast
Salt, black pepper from the mill
50 g dried apricots
14 stems of thyme
50 g pecan kernels
300 g goat cream cheese roll
500 g zucchini
50 g Parmesan in one piece, finely grated
2 stems of rosemary
PREPARATION
Mix flour, yeast, and 1 tsp salt for the dough. Knead with 120 ml of lukewarm water to a smooth dough. If it is too liquid, add some flour. If it is too dry, add some water. Let go in a warm place covered with a cloth for 90 minutes.
Dice the apricots very finely. Pluck the leaves of 8 thyme stems and chop finely. Chop the nuts. Mix everything with the goat cheese. Clean zucchini and cut lengthways into 5 mm thick slices.
Preheat the oven to 250 degrees (circulating air 230 degrees). Turn the dough into a little flour and shape by hand directly on a baking paper-lined sheet into a rectangle of 30 x 35 cm. Crumble the goat cheese mixture evenly over it. Cover with zucchini strips, salt, pepper, and sprinkle with Parmesan. Pluck the rosemary and the rest of the thyme finely and spread over the flatbread. Bake for 15 – 18 minutes on the bottom shelf until golden brown. Can be served hot or cold.
Green asparagus Pasta with pesto
Per serving: kcal: 978 50 min.
INGREDIENTS
For 4 servings
750 g green asparagus
salt
1 bunch of flat-leaf parsley
1/2 bunch of basil
3 – 4 tarragon stems
2 – 3 cloves of garlic
100 g roasted and salted macadamia nuts
Peel and juice from 1 bio lemon
150 ml of olive oil
75 g strong mountain cheese, (finely grated)
Cayenne pepper
400 g linguine
PREPARATION
Cut off the woody ends of the asparagus and peel only the lower third. Chop 400 g of asparagus in a strip with a peeler. Cut the remaining asparagus into short pieces and cook in 200 ml of boiling salted water for 1 minute, lift them out with a foam trowel (keep the asparagus stock), put them in a sieve, chill cold and let them drain well. Boil the broth, add the asparagus strips, and cook for 20 seconds. Lift out, quench cold in a sieve and save 100 ml of brew.
Pluck the herb leaves from the stems. Peel and roughly chop garlic. Roughly chop macadamia nuts. Puree herbs, garlic, 60 g nuts, lemon peel, 2 – 3 teaspoons of lemon juice, and oil with the asparagus pieces in a blast chopper. Stir in the cheese and season well with salt and cayenne pepper.
Cook the pasta in plenty of boiling salted water until bite-proof, drain, drain and put back in the pot. Mix in the asparagus strips. Mix in half of the pesto and asparagus. Heat everything together briefly with stirring, season with salt and a little lemon juice. Give the pasta to the plates, distribute the rest of the pesto to taste, and serve sprinkled with the other macadamia nuts.
TIP: Place the remaining pesto in a screw-top jar, cover with olive oil and close tightly. So it stays in the fridge for a few more days.
Couscous with summer vegetables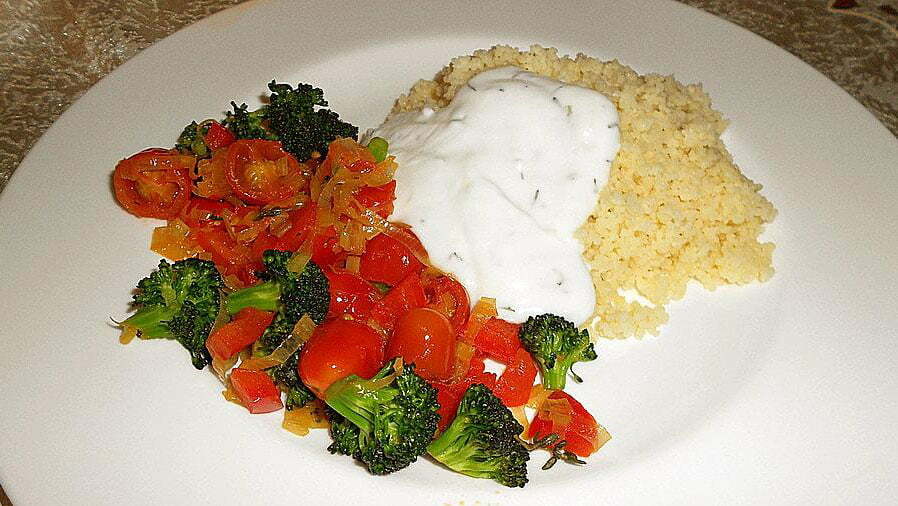 ingredients
| | |
| --- | --- |
| 5 cup / s | Couscous (coarse durum wheat semolina, pre-cooked) |
| 5 cup / s | water |
| 1 tbsp | Vegetable broth, granular |
| 1 tbsp | butter |
| 1 Msp. | Saffron, at will |
| 2nd | Pepper (s), yellow and red |
| 2 m. In size | Onion (onion) |
| 1 m | zucchini |
| 1 can | Tomato (s), peeled (approx.400g each) |
| 2nd | Garlic cloves) |
| 2 tbsp | Olive oil |
| 1 bunch | Parsley, smooth, chopped |
| 200 g | Natural yoghurt |
| 1 tbsp | Lemon juice |
| 1 teaspoon | Mint, fresh, chopped (or 2 drops of peppermint oil) |
| | salt and pepper |
| | rosemary |
| | thyme |
| | Lettuce, some leaves |
| | Sliced ​​cucumber |
| | Cherry tomato |
preparation
Working time about 20 minutesTotal time about 20 minutes
Wash, quarter and core peppers, wash zucchini. Cut the vegetables into strips that are not too narrow. Peel onions and garlic, cut onions into strips, cut garlic into small cubes. Heat the olive oil in a pan, first sauté the onions, then add the peppers and zucchini, finally the garlic. Braise everything for 3-5 minutes (the vegetables must still be firm to the bite!), Cut the canned tomatoes into pieces and add the juice to the vegetables. When using dried thyme and rosemary, add the herbs now (approx. 1-2 pinches); add fresh herbs only after the dish has been completed. Season the vegetables with salt and pepper, set aside.

Pour boiling water over the couscous in a sufficiently large bowl (the semolina swells about twice as high!), Dissolving the vegetable broth (and possibly the saffron) in the last remainder, stirring well with a fork so that no lumps form . Approx. Let it swell for 10 minutes, put butter in flakes on top and let melt, stir in.

Mix the yogurt with lemon juice and mint, season with salt and pepper.

Arrange the couscous on the plates next to the vegetable mixture, garnish with lettuce, tomatoes and cucumbers, give yoghurt as an addition or drizzle over it. Sprinkle chopped parsley over everything and enjoy!
Bulgur salad with summer vegetables – light in summer
Ingredients
| | |
| --- | --- |
| 200 gr | bulgur |
| n.B. | Vegetable broth for the bulgur |
| 50 ml | Vegetable broth |
| 1 | Lemon (s), organic |
| 4 tbsp | Tomato paste |
| 4 tbsp | White wine vinegar or other vinegar |
| 4 tbsp | olive oil |
| 1 tbsp | Sambal Oelek |
| 2 toes | garlic |
| 1 tbsp | honey |
| 500 gr | Tomato (s), small |
| 1 | Cucumber |
| 2nd | Pepper (s) |
| 1 bunch | Spring onion |
| 1 | Onion (onion) |
| 1 bunch | Parsley smooth |
| | salt |
| | pepper |
Preparation
Working time about 30 minutes
Cooking/baking time approx. 15 minutes
Total time about 45 minutes
Cook the bulgur gently in the broth according to the package (tastes better than with water).
Cut the onion, bell pepper, cucumber, tomatoes, and spring onions into small pieces and mix into the slightly cooled bulgur.

For the dressing, grate the lemon and squeeze out, mix both with 50 ml vegetable broth, tomato paste, honey, Sambal Olek, vinegar, and oil. Press and add the garlic cloves, season with salt and pepper. Pour the dressing over the salad and mix well.

Wash and finely chop the parsley, then add it to the salad. He should pull off for a good 30 minutes, then he is done.

Tastes great for grilling, for example, and doesn't have many calories.