As a busy gardener, you might want to have some fun objects or accessories around or on you. But most likely, you can't find time to search for these things. We thought the same way and wanted to create some free gardening t-shirt designs for you, which are ready for printing.
My friend has recently started a small business on Etsy. Although she has been working as a graphic designer in a corporate studio, she decided to do some extra fun activities.
She sells her designs as digital products, such as home wall decorations, upscaled vintage photos, junk journal supplies, SVG t-shirt designs, etc…
I asked her to create some gardening-related digital products to give away for free to our visitors.
She was so welcome and willing to do that.
She did some research and saw some of the most demanded designs and recreated similar and better ones.
Depending on your feedback and reviews, she will create more products for us and publish them here under the same post.
You can also express your desired designs, and she can do her best to make them.
Free Gardening t shirts for our visitors
Gardening topics are so saturated, and we wanted to do something different. As one of our dear visitors, you might love and also need it.
If you love any of those designs, you can download and print them on any surface, such as mugs, t-shirts, paper, etc.
How to print them?
There are a good number of online POD (print on demand) services you can visit, such as Printful or Printify. You can also Google it and see the nearest POD services.
If you are planning to use a design as wall decor or garden entrance sign, you can print them yourself at home, send it to a local print house or service which makes cut prints or Glowforge-type laser cuts.
After you visit one of those sites, all you need to do is choose your product, i.e., a t-shirt, upload your image on it, adjust the size and place of the image on the product and order it. Enter your address and make the payment.
For some items, such as wall arts, this makes it way more cost-effective than purchasing it as a ready-made art product.
Although the PNG file included is very high quality, I would always be stuck to the SVG version as long as the service is OK with uploading this file extension.
Use Rights for Free Gardening T-shirt Designs
The right of the images belongs to her and her store. So, the usage rights include only PERSONAL USE. It's not allowed to use them commercially, giveaway them somewhere else, or include them in any other place or package. You can't print them on a product and sell them either.
PNG and SVG, but what is SVG?
For the ones who have no clue about file extensions, I want to clarify it.
PNG is a transparent sublimation file, and you can use it anywhere, just like an SVG file. But because it's a pixel-based file type, you can't enlarge it beyond its limits, or it will be blurry.
Opposite to that, SVG is a vector-based file, and you can enlarge it as much as you like, and it will always keep its sharpness and high-resolution look.
As I mentioned above, she will keep updating and adding more products depending on your feedback.
If you like her free designs and buy a coffee for her, you can visit her store here and buy another digital product for your interest there. Or, you can also share this post and increase the chance for others to see it and visit her store. Don't worry; they are extremely cheap.
Here is our first file:
1) This one is a nice colored floral "gardening mom" t-shirt design in SVG, PNG, and JPEG format.
You can download this set here. The ZIP file includes JPG, PNG, and SVG.
2) I will be in my office gardening design:
3) I grow my own food t-shirt design free download: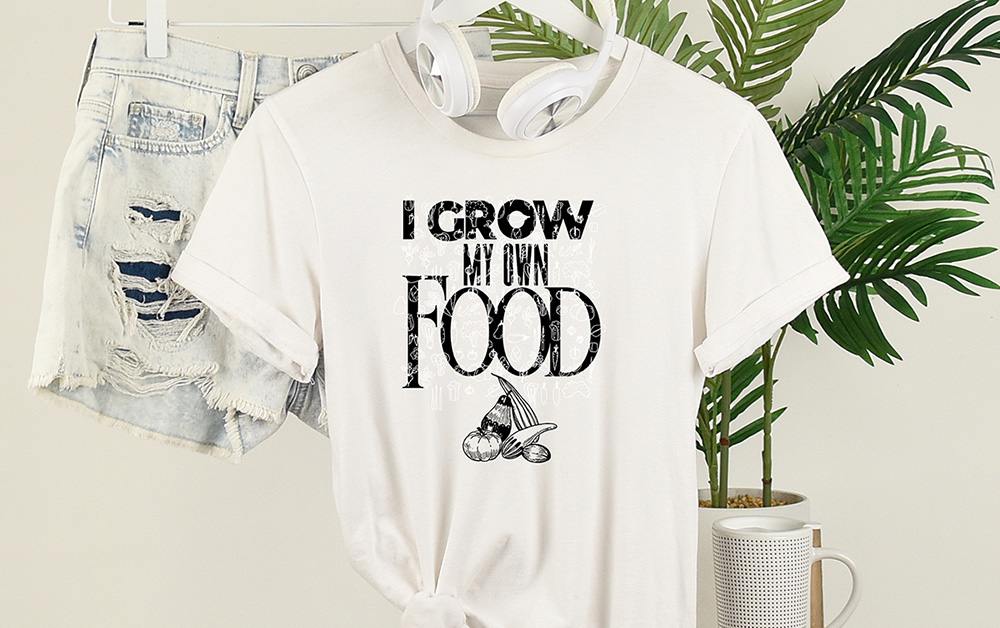 4) Yes, that's true. Sometimes I wet my plants T-shirt Design
5) Keep Calm and Garden On T-shirt Design
I will be updating this post every day with a new one. Stay tuned for the new free designs.
You might want to read this: Gardening On Mars: Why Is Gardening Essential For Survival?