The Orange Tiger Lily (Lilium lancifolium Orange) is easy to cultivate and an eye-catcher in the late summer shrub bed. This is how the bulb flower can be planted and cared for.
Here are the specifications of this beautiful plant: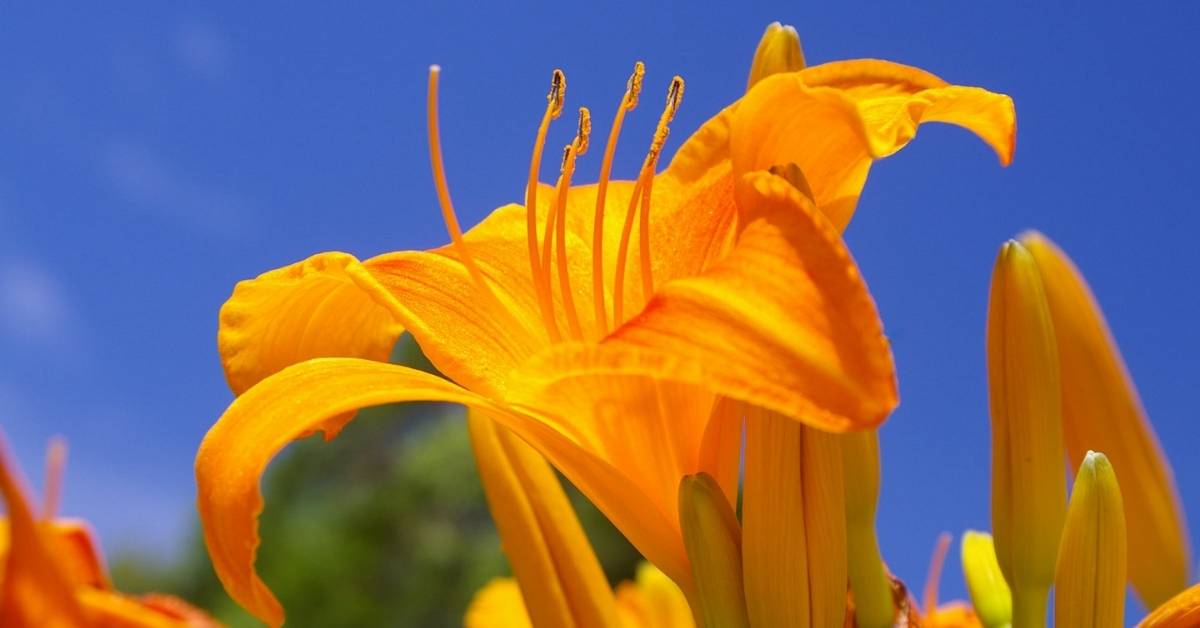 Growth type
Onion
Height
60-80 inches (150.00 to 200.00 cm)
Growth characteristics
Upright
Flower color
Orange and Red
Flowering time (month)
August to September
Leaf color
Green
Leaf shape
Elongated lanceolate
Fruit shape
Capsule
Light
Sunny to shady
Soil type
Sandy to loamy
Soil moisture
Fresh to moist
PH value
Neutral
Limescale tolerance
Lime tolerant
Nutritional requirements
Nutritious
Winter hardiness
Hardy
USDA Climate zones
3 – 9
Use
Flower beds
Group planting
Planters
Discounts
Garden style
Flower garden
Natural garden
Origin
The tiger lily (Lilium lancifolium) belongs to the large genus of lilies (Lilium) within the lily family (Liliaceae). The tiger lily originally comes from East Asia. Above all, in the eastern provinces of China and occasionally in Korea and Japan, it can be found in nature.
The plant grows at altitudes between 1600 – 8200 feet (500 and 2,500 m) in meadows, on river banks, and on sunny forest edges.
How To Grow Orange Tiger Lily
The tiger lily grows from a flat; round onion made up of numerous onion scales. As is typical with lilies, these onion scales do not have a protective skin but are so-called "naked onions."
Lilium lancifolium has strong, upright stems that are brown-red in color and have many short hairs. The plants reach heights of about 60-80″ (150 to 200) centimeters. The cultivars remain smaller at around 40-60″ (100 to 150) centimeters.
Leaves
The elongated, lanceolate leaves, to which the tiger lily owes its species name "lancifolium," are about 15 centimeters long and have woolly, whitish hairs. They sit opposite on a stick.
Blossoms
In the wild species, the flowers are in a terminal panicle with three to five individual flowers; in the cultivated forms, it can be up to twenty individual flowers.
These are aligned horizontally or inclined slightly downwards. They have petals that are folded back far. This flower shape is called "turban-shaped" for the lilies. The petals of the orange tiger lily are bright orange-red in color and have numerous dark brown points.
As is typical for lilies, their stamens are flexibly connected to the stamens. The flowers of Lilium lancifolium are about eight centimeters in diameter and are fragrant. The tiger lily produces plenty of pollen and nectar. This makes them attractive to bees and other flower-visiting insects. The flowering period is from August to September.
Fruit
Lilium lancifolium forms upright capsule fruits with three chambers in early autumn. Numerous flat seeds are stacked in it. However, these are usually sterile and are not suitable for propagating the plant.
Location
Tiger lilies are like a slightly partially shaded place. Plant this lily, so the flowers are in the sun, but lower perennials shade the roots.
Soil requirements
Lilium lancifolium thrives best in a loamy-sandy substrate with sufficient moisture and nutrients.
Planting Tiger Lily
The best time to plant the tiger lily is from August until the end of September at the latest. So it can still form roots until the end of the growing season. If possible, plant the bulbs as soon as you buy them, as they dry out easily. The planting depth is about 6 inches (15 cm).
Make sure that the onions always go into the ground with the tips up. Plant the bulbs in small groups with a planting distance of about 10 inches (25 cm) – this is the best way to show off their beauty.
Care
Fertilize the tiger lily in spring with a slow-release fertilizer for bulb flowers or put a layer of compost on the planting site. In the case of prolonged drought in midsummer, you should water Lilium lancifolium thoroughly so that the buds do not dry out.
After flowering, it is best to remove the seed bases straight away. Otherwise, let the plant move in its shoots and foliage. When everything has wilted, the remains of the shoot can be pulled out of the earth.
Winter protection
Tiger lilies are well hardy. You don't normally need winter protection. A cover with ten centimeters of bark mulch or compost protects them from drying out or too strong frost in very sunny locations.
Use
Due to its height, the tiger lily 'Splendens' is more likely to be planted in the background of beds. The robust and vigorous lily species also look good in near-natural wild meadow plantings together with taller grass or other larger perennials with a wild character.
In Asia, the starchy bulbs of the tiger lily are also a food and medicine. They taste slightly bitter. Their healing effects are varied: the ingredients have an expectorant and diuretic effect, are used as heart medication, promote labor, and are also supposed to strengthen eyesight.
Varieties
In addition to the 'Splendens' variety, which is similar to the wild species, there are also varieties with creamy white, yellow, pink, or red flowers. There is also a filled form, Lilium lancifolium 'Flore Pleno'. Their flowers are then of no interest to insects.
Multiplication
In the leaf axils of the stems, small bulbs, which are dark brown when ripe, are known as axillary bulbs. Through this, one can easily multiply the tiger lily.
In late summer, they are removed from the mother plant and placed about two centimeters deep in pots with potting soil. It takes about three years for the plants grown from these bulbs to flower. In a suitable location, the plants usually multiply on their own by falling bulbs.
Diseases and pests
Tiger lilies are unfortunately also popular with the lily chickens. These strikingly red beetles feed on the leaves and flowers, just like their larvae, which are usually located under the leaves. Nudibranchs also like to eat the leaves and flower buds. It is best to check the plants every morning when they are budding.